Tired of Working 12-Hour Shifts? Ready for a change? Why not consider a career in Public Health Nursing at the Forsyth County Department of Public Health!
Work Monday through Friday 8:00 AM – 5:00 PM (with an hour for lunch)
No Weekends or Holidays (10½ paid holidays, including 2½ days off at Christmas)
Great Benefits!

A retirement program which is rated #2 best Government pension plan in the Nation!
A Uniform allowance twice a year!
Nursing License renewal fee paid!
Blue Cross & Blue Shield of NC Health Insurance
Ameritas – Dental Insurance
Medical and Dependent Care Reimbursement Accounts and more!!!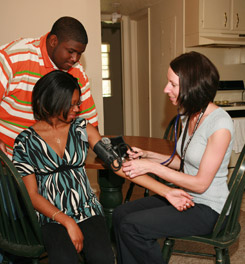 Generalized Public Health Nurse
Variety of duties
School Health Nurse
Set your own schedule
Teaching opportunities
Case management with moms and babies during pregnancy through 2 months post-partum.
Community based services
Professional development opportunities
Communicable Disease Nurse
Investigative duties
Prevent disease outbreak
Daycare immunization reviews
Community based services
Teaching opportunities
Network with providers
Computer based surveillance
Professional development opportunities
Clinic Nurse
Flexible schedule (Monday, Tuesday, Thursday 8:00 am - 5:00 pm; Wednesday 8:00 am - 8:00 pm; Friday 8:00 am - 1:00 pm (Wednesday you work 12 hours and your time is adjusted to leave early every Friday)!
Variety in clinic settings – schedule is made a month ahead. One is never bored!
Rotate through Immunization/International Travel, Sexually Transmitted Disease/HIV clinics each week.
Professional development opportunities.
Public Health Clinics
TB Control Unit provides case management and Directly Observed Therapy for persons with suspect or active TB.
Sexually Transmitted Disease provides confidential examinations, diagnostic testing, treatment and counseling of STD's (syphilis, gonorrhea, Chlamydia and others).
HIV Clinic provides confidential testing and counseling.
Immunization Clinic provides vaccines for children and adults.
Family Planning Clinic Nurse
Caring environment
Work with teens and women of child-bearing age
Provide medical/social assessments
Teaching and counseling
Work with progressive Family Planning Team
Flex schedule
Professional development opportunities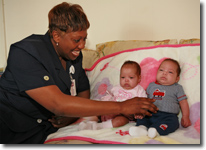 Child Health Nurse
Pediatric Team Approach
Case Management ages 0-5 years old
Newborn home assessments
Teaching and Counseling
Professional development opportunities
School Health Nurse
10 month position – Ideal for anyone with school age children
Hours flexible according to school schedule
Autonomy
Professional development opportunities