More Books We Like
Need a New Author?
Get printable versions of these lists by clicking on the list name.
Books We Like: Graphic Novels, Where to Start?
Published 7/7/2022 by Todd Bowser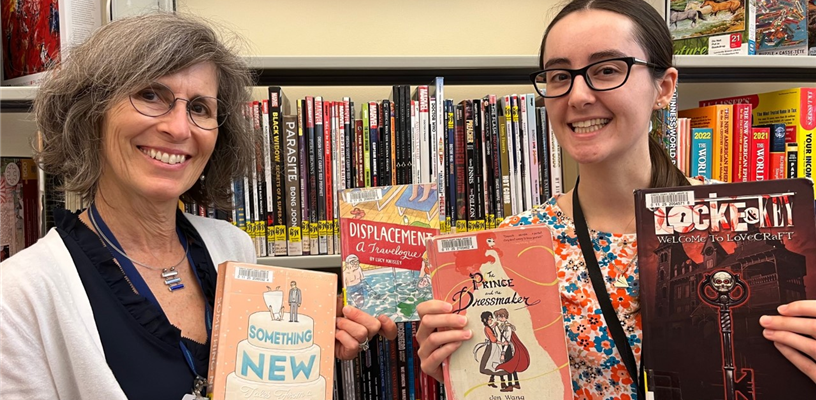 July is Graphic Novels in Libraries Month. A graphic novel is a collection of comics, bound together as one story. Are you interested in reading graphic novels but don't know where to start? Today's graphic novels cover a variety of genres and subject matter. Whether you enjoy epic fantasies, fairy tales, historical fiction, or laugh-out-loud memoirs, there is a graphic novel for you. Here are a few of our favorite picks from the staff (Mary and Sue) at the Lewisville Branch. By the way, Mary and Sue think there is no wrong place to start.

"Kid Gloves: Nine Months of Careful Chaos" by Lucy Knisley (2019)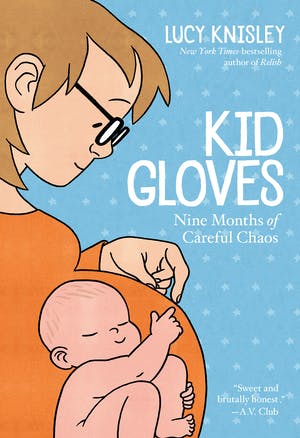 This is a sweet, hilarious and touching memoir that follows Knisley's journey through pregnancy, including the devastation of a miscarriage, the worries that followed with becoming pregnant again, a good bit of drama with the physical and emotional changes in her body each trimester, some complications, and her birth story. Knisley's comic artwork greatly enhances her story and kept me thinking how her pictures are worth a thousand words. Even with some sad parts, there's plenty of humor in this book, especially for anyone who's had a baby (as a mom or dad), is thinking of having a baby, and everyone else.

"Locke & Key, Vol. 1: Welcome to Lovecraft" written by Joe Hill, illustrated by Gabriel Rodríguez (2013)



This graphic novel is for fans of horror and fantasy. The first in a series of six volumes, Lock & Key, Vol. 1 introduces the Locke family. After tragedy strikes, mother Nina and her three children move to New England. But Keyhouse has a few surprises up its sleeve. Keys open doors to new worlds, for those who choose to believe. Bode Locke goes on a quest to collect each key. All the while, a monster will stop at nothing to use the keys for evil. Penned by the son of Stephen King, this fantastic series will keep you guessing until the very end.

"Nimona" by Noelle Stevenson (2015)



In this graphic novel the lines between good and evil are blurred. Protagonist Lord Ballister Blackheart is on a mission. His kingdom is in danger. To help him, he acquires an unlikely sidekick. Nimona is a young shapeshifter with a questionable past. Together they expose the evil doings of Blackheart's arch nemesis and the Institution of Law Enforcement. This YA graphic novel is brimming with intrigue and adventure. If you enjoy stories about misunderstood villains turned unconventional heroes, this medieval tale is right for you. It is perfect for teens and adults.


Interested in more graphic novels? Here are a few bonus picks for your To Be Read list:

"They Called Us Enemy" written by George Takei, Justin Eisinger and Steven Scott, illustrated by Harmony Becker (2019): For fans of Star Trek, this graphic memoir recounts George Takei's childhood during WWII. As a child, the US government forced his family into a Japanese internment camp. Many sacrifices were made. This book highlights the power of family and defending one's heritage during difficult times.

"Hostage" by Guy Delisle (2017): This is a non-fiction graphic novel about Canadian Christophe Andre who had traveled for work as an administrator for Doctors without Borders. In 1997 he went to Nazran near Chechnya and was abducted and held captive in solitary confinement for three months. This is the story of his survival.

"The Prince and the Dressmaker" by Jen Wang (2018): This is an adorable YA story about Prince Sebastian and his dressmaker turned best friend, Frances. This modern fairytale celebrates the magic of love, family and embracing your true self.

More Lucy Knisley! "Relish: My Life in the Kitchen" (2013) This is the story of Knisley growing up with a mom that loved to cook and a dad that loved to eat good food. It's also about her being exposed to exquisite food as a child when living in New York City and then her transition to a more countrified, agrarian lifestyle in upstate New York. A common theme is Knisley's positive relationship to food, as well as the family and friends in her life. I was delighted to find recipes in this book, too (in comic form), including Carbonara, Sushi Rolls, and Chocolate Chip cookies. You might also try "An Age of License: A Travelogue" (2014) or "Something New: Tales from a Makeshift Bride" (2016).